Self-proclaimed "rock chick" Suzanne, and her partner John, recently eloped in Loch Etive, Scotland. The area is famous for its feature in Skyfall and made for a cinematic-worthy, and truly romantic, wedding day.
THE COUPLE
Suzanne Sheeran, company director, and John Casey, HGV driver.
THEY LIVE
in The Downs, Mullingar, Co Westmeath.
THE VENUE
Loch Etive, Scotland.
PHOTOGRAPHY
Gillian Edgerly, Unfurl Photography.
THEY MET
On Valentine's night in Killarney, Co Kerry in 2009. John offered to buy me a drink, ordered two Baby Guinness and gave a toast to Valentine's Day.
THE PROPOSAL
John surprised me a couple of months after my fortieth birthday. We were at our house and he suggested we go for a drive, then he drove me to a jewelery shop in Dublin and proposed. It was so surprising, as I thought if he was going to propose he would have done it on my birthday. The following days were filled with Moet and celebrations.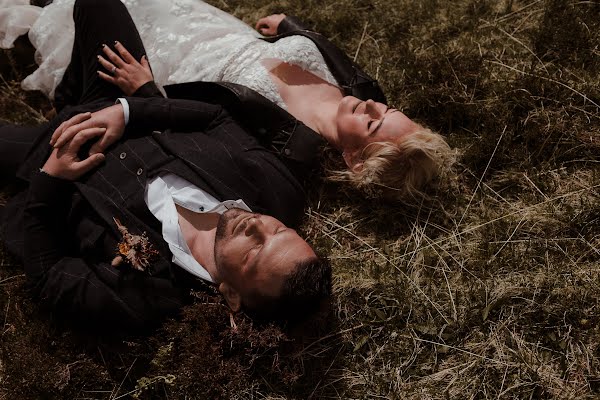 THE DRESS AND THE SUIT
I knew as soon as John proposed that I wanted an Enzoani Dress. I got it from Timeless Bridalwear in Trim and paired it with Doc Martens and a black leather jacket. John's suit is House of Cavani from a local supplier, Tom Bermingham Menswear, in Mullingar.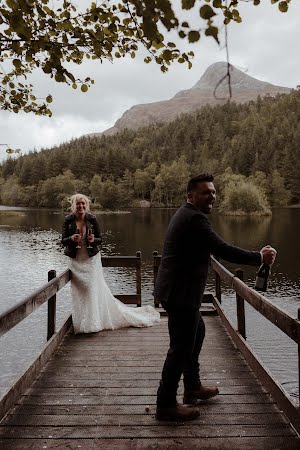 THE CEREMONY
As soon as we got engaged in October 2021, I was excited to get started in the planning process. However, planning a wedding can be so daunting, trying to please everybody and having to put your own desires to one side. I have always been a rock chick at heart and knew I didn't want a traditional wedding. I wanted something more alternative.
With a bit of research, I found the most amazing photographer, Gill from Unfurl Photography, who shoots weddings in the magnificent Scottish Highlands, and I knew straight away from her portfolio they were the type of pictures I wanted. On her website, she offered an elopement service and this really excited me – the thought of eloping just the two of us. John agreed and we contacted Gill and got the plan underway; she was so supportive and helpful from the first email.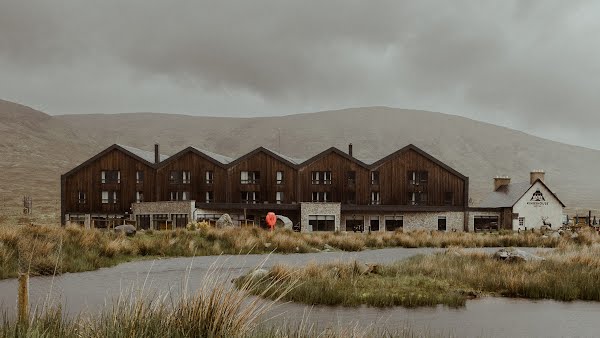 On May 25, we traveled to the scenic Kingshouse Hotel in Glencoe to be married the following day on the coast of Loch Etive in a humanist ceremony. The ceremony was so beautiful and imitate, and once it was over we continued to travel along Scotland's most beautiful road, the Glen Etive road, which is known for its amazing scenery and for featuring in the James Bond Skyfall film.
THE RECEPTION
When we returned from the photo shoot we had an intimate dinner together at the Kingshouse Hotel with champagne flowing and discussed the amazing day. The restaurant has views of the grounds with mountains, and stags and pheasants roaming around – so picturesque. It was just perfect, and exactly what we had imagined.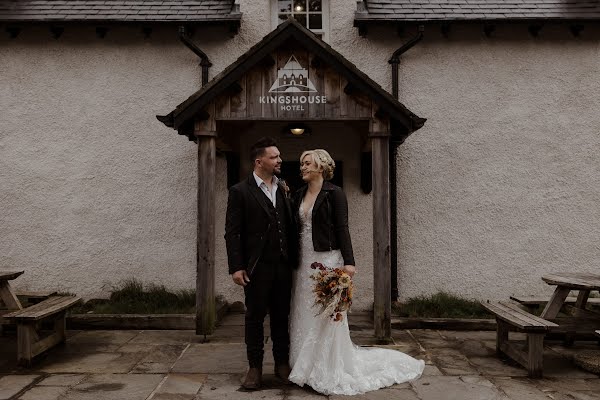 THEIR TOP TIPS
Find an elopement planner! Even though it's an elopement, there is a lot of paperwork involved. Also, be true to yourself. Not everyone will be happy with you choosing to elope but it will be an amazing, romantic experience.
THEY WISH THEY HAD
Made the trip a bit longer to enjoy the beautiful place and explore more.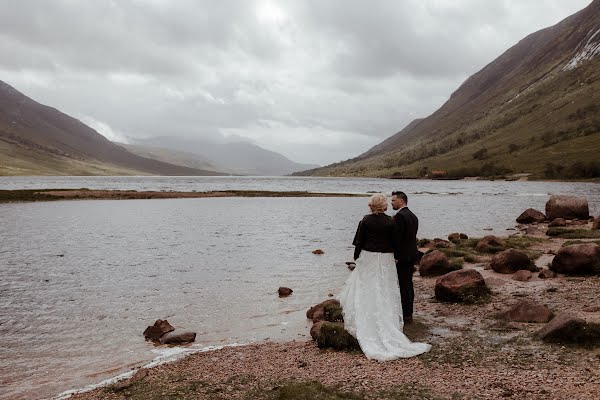 THEIR BEST MOMENTS
Eloping is a big decision for any couple but we loved every minute of it. It was so romantic and intimate, and when we returned home a few of our closest friends and family surprisingly greeted us at our house with a small party. It was just perfect.
THE CREW
Bride's Dress: Enzoani Dress. Bride's Jacket: Barney's Original Leather Jacket. Bride's Shoes: Doc Martens. Groom's Suit: House of Cavani. Makeup Artist: Bonny's Wonderland. Celebrant: Gary Smith, humanist.
See more photographs from Suzanne and John's wedding in the gallery below.
Photography by Gillian Edgerly, Unfurl Photography.
Want to see your Real Wedding on IMAGE.ie? Email [email protected] with the subject line 'Real Wedding'.
.