A man who was the only member of his friend group of 19 years not to be asked to serve as a groomsman for his friend's upcoming wedding reconsidered attending an annual trip.
In a post that amassed nearly 10,000 votes on the popular Reddit forum "Am I the A******," u/AITABusyComputer wrote that while he was initially upset that he was not included as a groomsman for his friend's wedding, he worked through his feelings and is no longer bothered by the decision.
However, he said he became uncomfortable when the other members of the friend group, all of whom are groomsmen, suggested inviting the other groomsmen who don't typically attend the trip. Redditor u/AITABusyComputer said he told his friends that he did not want to go on the trip if it meant he'd be the only non-groomsman, but it has caused some tension.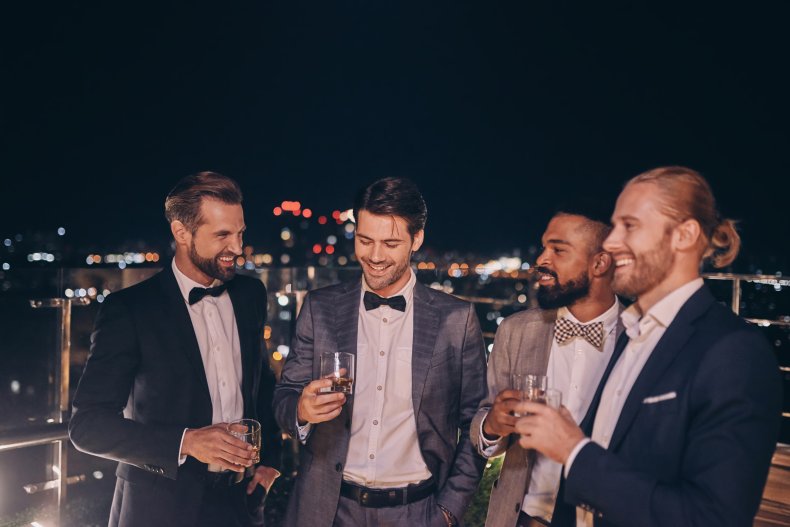 Insight From an Expert
Jacqueline Whitmore, an etiquette expert and the founder of the Protocol School of Palm Beach told Newsweek that she could see why u/AITABusyComputer would not want to attend.
"It is unfortunate that they took this particular trip and made it into a groomsmen trip," she said. "They weren't thinking about the odd man out. That's where the rudeness comes in. They were not being thoughtful."
Whitmore said u/AITABusyComputer could go on the trip, and it may turn into an opportunity to bond with the other people, but it could also potentially feel uncomfortable.
Ultimately, communication is what is most important.
"If you're feeling like you're the odd person out, the best way is to communicate that with whomever you're connected with," Whitmore said.
AITA?
In his post, u/AITABusyComputer explained that one of his friends in his friend group, "Brandon," is getting married in January. He asked the three other men in their friend group to be groomsmen, as well as his two brothers and his two friends from college.
"I was upset when I first realized, but I talked to my parents about it, and they reminded me it's Brandon's wedding and not a 'group event,'" u/AITABusyComputer said. "He can have who he likes up there, and just because I'm not a groomsman doesn't mean Brandon doesn't consider me a friend. And that he does already have seven people up there beside him, which is a lot."
He only confided his feelings to his parents, and he's since "over it."
Redditor u/AITABusyComputer continued and said he and his friends go on a trip in December, which has been a tradition since their first year of college. It has always just been that group of friends, but it changed when u/AITABusyComputer's friends approached him to see how he felt about inviting the other groomsmen on the trip as a surprise to Brandon.
"The three of them were clearly all for this idea and really wanted me to say yes," u/AITABusyComputer said.
He told them he wanted to think about it and eventually told them he did not want to go on a trip if he was the only non-groomsman.
"I know Brandon's brothers, and I've met his college friends, and they're all cool, but I don't want to be the clear odd man out," he said. "I told my friends that they should do it, I just won't go this year—which was fine for me because I could do with saving some money because I have a separate destination wedding to go to in February now."
Redditor u/AITABusyComputer said his friends won't invite the other groomsmen if he did not attend the trip, but they were frustrated at not being able to invite them.
One friend told him that he believes he was not being "fair" or a "good friend." He asked if u/AITABusyComputer resented not being a groomsman.
"Feels like any decision I make besides agreeing to go on the trip with the four other groomsmen is going to make them mad at me," he wrote, concluding his post.
Redditors React
While it was tense with his friends, many Reddit users jumped to u/AITABusyComputer's defense.
"If they want the others to come then you have every right to stay home," a top comment read. "At that point it's no longer keeping the tradition but changing it to a wedding event."
Another Reddit user suggested that u/AITABusyComputer should tell his friends that he has a pricy trip in February, and the annual trip can be treated as a groomsmen trip.
"Any backlash you get, just know that it's all about them," they said.
"This isn't really about OP not being a groomsman; it's about there being a lot of other activities that OP has been left out of because he's not a groomsman, and him not waiting to feel like an outsider when the event is a group thing that he should be central to," one Reddit comment read.
Newsweek reached out to u/AITABusyComputer for comment. We could not verify the details of this case.
Other Reddit users sought insight from fellow Redditors, including a woman who said she dropped out of a wedding party when she learned she would not be included in the bride's wedding photos.
One teenager was backed for using a scary movie to keep her father's girlfriend's children out of her room. The internet criticized a woman's parents after they asked her to spend less time with her boyfriend.
Are you and your friend stuck in an argument? Let us know via life@newsweek.com. We can ask experts for advice, and your story could be featured on Newsweek.